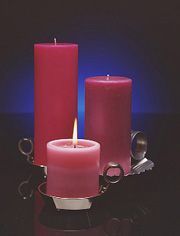 We call these 3" diameter candle Pillar EveningTM Candles because they are meant to be burned for a few hours at a time -- perfect for adding a soft, scented glow to a cozy evening. They are available in three sizes -- 3" high, 6" high and 9" high. Our 3" Pillar EveningTM Candle will burn for 50 hours while our 9" will last for over 100 hours. That's a lot of cozy evenings!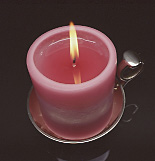 Don't you just hate it when a pillar candle drowns itself or burns through on one side? What you see here is a pillar candle burning perfectly. With the combination of the right wax and the right wick, our EveningTM Pillar Candles burns wide and even, creating a soft, glowing cup and a pleasant scent evening after evening after evening.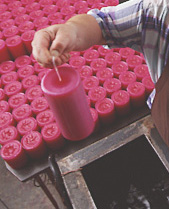 Mole Hollow knows their wax and wicks. Here, over-dipping a Pillar EveningTM Candle, is the final dip, after the candle is removed from the mold, this adds a subtle patina to the surface. It's not a Pillar EveningTM Candle until Mole Hollow says it is!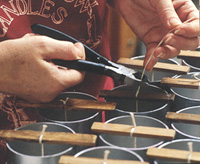 The word "handmade" means what it should with this company! Take a look!
Mole Hollow candles are simply the best pillar candles you can buy - and as usual, we'll guarantee it!
Having problems with your pillar candles? Visit our Candle Burning Guide.
Find 3"x3" Mole Hollow Pillars Here, 3"x6" Here, and 3"x9" Here.