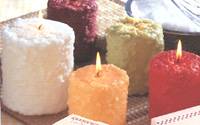 Cake Candles
Try one of our two sizes!
Small (Burns 60+ Hours)
Large (Burns 100+ Hours)

Our fresh baked cake candles look and smell like delicious cakes. Frosted wax looks like real icing. Any of our tantalizing flavors will make you think a cake is in the oven!
---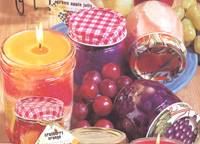 Fruit Jar Candles
Two sizes available, try one today!
Small (50+ Hours Burning Time)
Large (100+ Hours Burning Time)

Like the tantalizing aroma of fresh fruit preserves simmering on your Grandma's stove, the delicious scents of these great candles will make your mouth water! Colorful wax fruit pieces float in super scented, extra long burning gel wax. A thin layer of wax seals the top of the candle to further preserve it!
---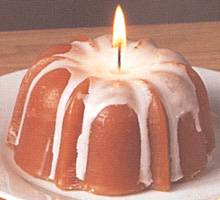 Bundt Cake Candles

You don't have to put on an apron to have your house fill with the smell of fresh baked bundt cake candles! Just light one of our delicious candles!
---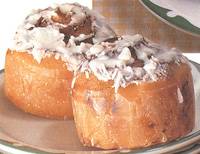 Cinnamon Bun Candle

Our cinnamon bun candles features a simply delicious cinnamon bun aroma to spice up any room in the house! Try a cinnamon bun candle today!

---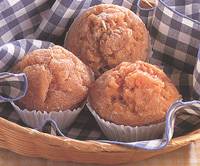 Muffin Candles

Our muffin candles looks so real you'll be tempted to put on the coffee!

---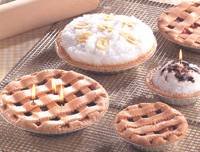 Pie Candles
Small (1 Wick Pie Candles)
Large (3 Wick Pie Candles)

Choose our yummy pie candles from meticulously cut lattice or fluffy cream tops! Colorful fruit peeks out from the delicate lattice crusts in our apple, strawberry, peach and cherry pie candles. Fluffy whipped wax looks good enough to eat on our lemon meringue or our chocolate, coconut and banana cream pie candles.
---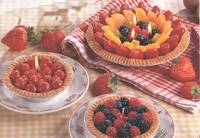 Tart Candles
Small (1 Wick Tart Candles)
Large (3 Wick Tart Candles)

Absolutely mouth watering, with zero calories! One of our finest finished items! These colorful tart candles will accent any counter top or table.
---

Cookie Jar Candles
Small Cookie Jar Candles
Large Cookie Jar Candles

Our charming Cookie Jar candles offer the comforting aroma of fresh baked cookies, with no baking required! Available in two sizes, both featuring handmade wax cookies in a gel base and cookie accents in the domed lid. The large size features a votive glass insert which is filled with wax and can be replaced with any votive candle (try mixing scents for incredible combinations). They look and smell just like a real cookie jar - quite simply, they are amazing!
---
Crumbie Candles
Bakes (2.5" Tall x 4" Wide)
(60 Hour Burn Time)
Jars (2.75" Tall x 3" Wide)
(40 Hour Burn Time)

Scrumptiously delicious! These candles will make your mouth water. Attention to detail make these crumbie candles simply astonishing.